I am so excited to be sharing Hunter + Kristina's profile book on the blog today! In case you don't know Kindred + Co. was born out my own adoption process. I knew nothing about domestic adoption when my husband and I decided to switch from International to Domestic, I knew nothing about the process or the need for profile books. I was desperate to read stories about people from all sides of the triad – I wanted to learn and I wanted to read first-hand stories. But I couldn't find one place for this kind of community. I saw community within agencies, but not one place for everyone, full of different  perspectives. That is a big reason that I started Kindred. The other reason was to help hopeful adoptive families with their profile book! The profile book is intimidating! And many agencies give you very little support on how to go about making one of these books. I was thankful that I had a background in design and marketing and could make my own, but I kept thinking about the families that might be so overwhelmed by this task – adopting is overwhelming enough! After my inbox was full of requests from people to help them with their profile book, it gave me even more reason to start Kindred + Co. One of my favorite parts of the book process is getting to know the couples we work with. They are determined and vulnerable and full of so much grit. Each story of what brought them to adoption is so unique. I love getting to know them and creating a book that authentically represents who they are and what their lives are like. I have been so busy creating books, that I haven't taken enough time to SHARE these books with you – and so I am starting this series of Profile Book spotlights, so you can get to know Kindred couples, hear their story, and get a glimpse into their profile book! I was thrilled to work with Hunter + Kristina, they are such a vibrant couple, and their situation was a little unique – They had already had a profile created, but they didn't feel like it represented them well – so they came to us for a redesign! And I just loved how it turned out. Okay, enough of me. Enjoy this interview with Hunter + Kristina! – Hannah
---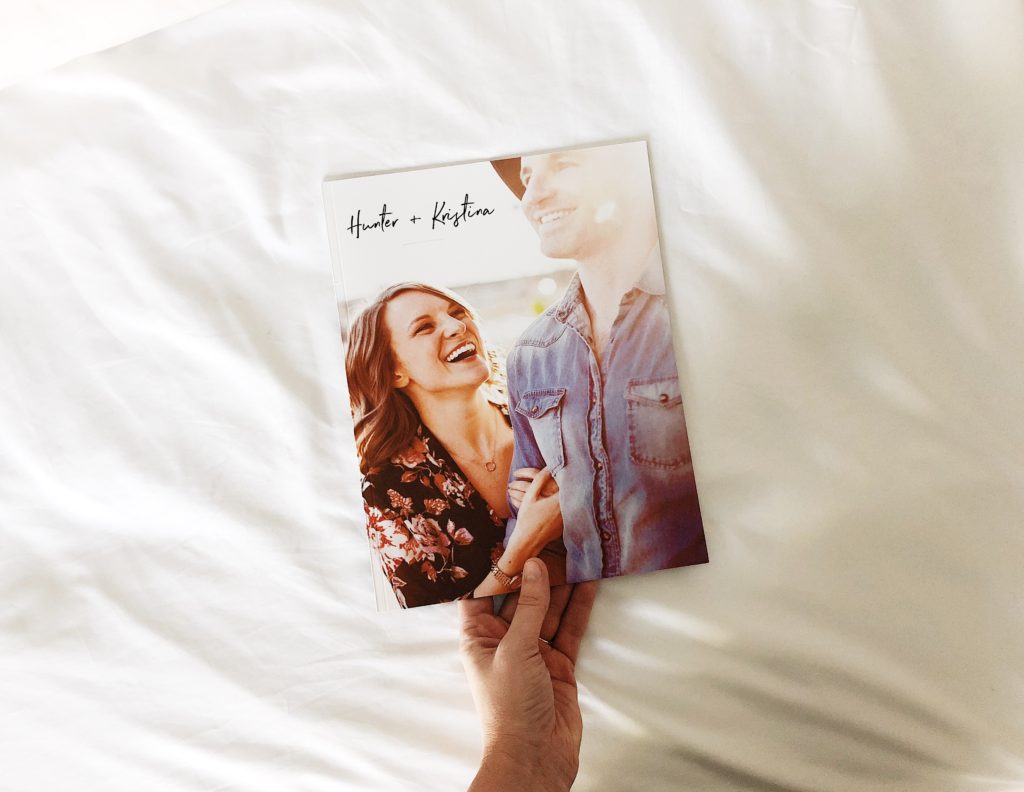 What led you and your husband to grow your family through adoption?
We ended up pursing adoption in the midst of a long battle with infertility.  It's not something I had ever pictured for our family, but Hunter was open to it from the beginning.  God spoke to him clearly about it first, about a month before He spoke to me, but Hunter didn't say a word about it because he knew it was something I would have to come to on my own.  In my mind I knew the same thing, that adoption couldn't be Plan B just because we weren't able to have biological children. It would have to be Plan A – and that's exactly what it became.
What did you learn through the adoption process?
Honestly I could go on and on about what we learned – there's so much to unpack.  I could talk about the logistics of the process but the most profound things I learned were personal.  The adoption process is scary, uncertain, and completely out of your control.  It's also beautiful, exciting, and mysterious – it all depends on your perspective.  There were several days I was completely gripped by fear, consumed by the fact that I couldn't control the choices our child's birth mom was making which would affect him for the rest of his life (even though I didn't know who she was yet).  The hardest and biggest thing to learn was to trust God in all of it.  And I'm not talking about a lip service, trusting-God-because-He's-God kind of trust – I'm talking about a gut wrenching, you've written our family's story and I trust you as the Author to write it no matter what it involves, complete surrender kind of trust.  The reality is, control is a facade that we think will keep us safe – and we think we have control over our family if our child is growing in our belly.  But adding to your family is a journey of surrendering control regardless of how your children come to you.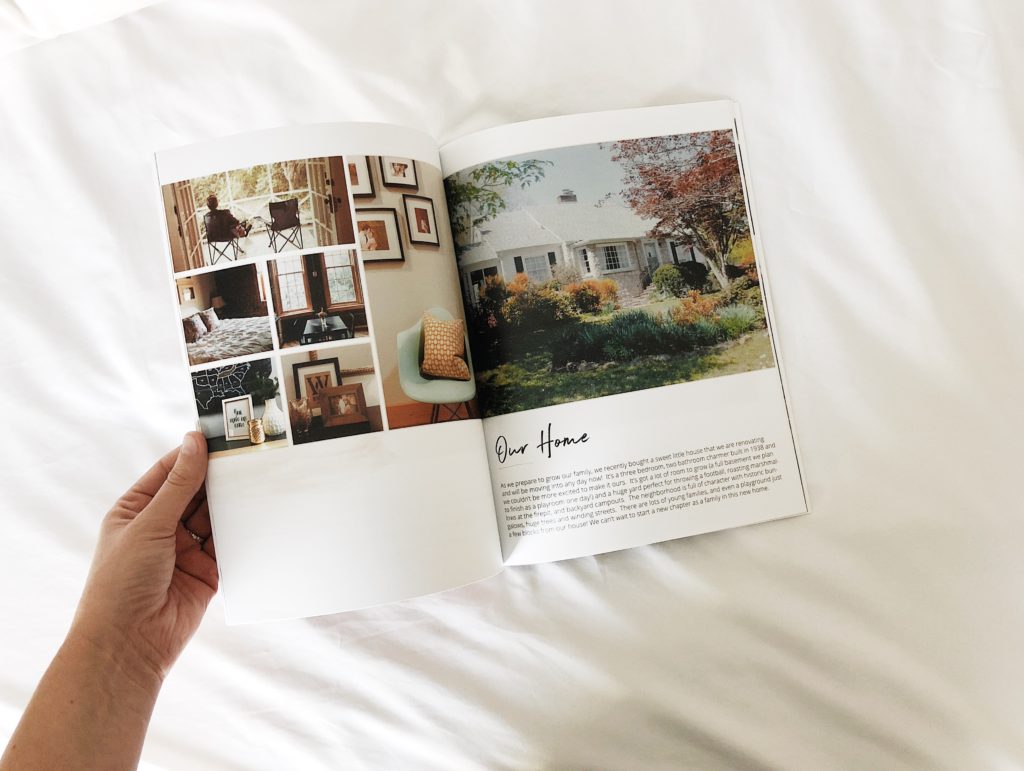 What is your advice for someone starting their adoption?
When we started the process, I was overwhelmed to say the least just thinking about all that was ahead.  Would I be ready when we got the call?  Would I be able to love an adopted child as I would a biological child?  Would I miss out on the process of falling in love with our child because he wouldn't be growing in my belly?  Would my maternal instinct kick in (and how)?  What would our child look like?  How would I answer questions about him in the grocery store?  How would I answer his questions when he got older?…and on and on and on.  And listen, I know I'm not the only one who struggles with those kinds of questions – aka struggles with getting WAY ahead of myself.  The best thing I can tell you is to focus on the next thing in front of you and do that.  Just do the next thing and your heart will follow.  Your heart will grow and be prepared for your child as you prepare, whatever that looks like for you.  It's literally the hardest advice to follow because it means being present and not getting ahead of yourself, but the days that I was able to live that way were the best ones in the process, and the ones that I felt the most free to enjoy the the mystery of it all.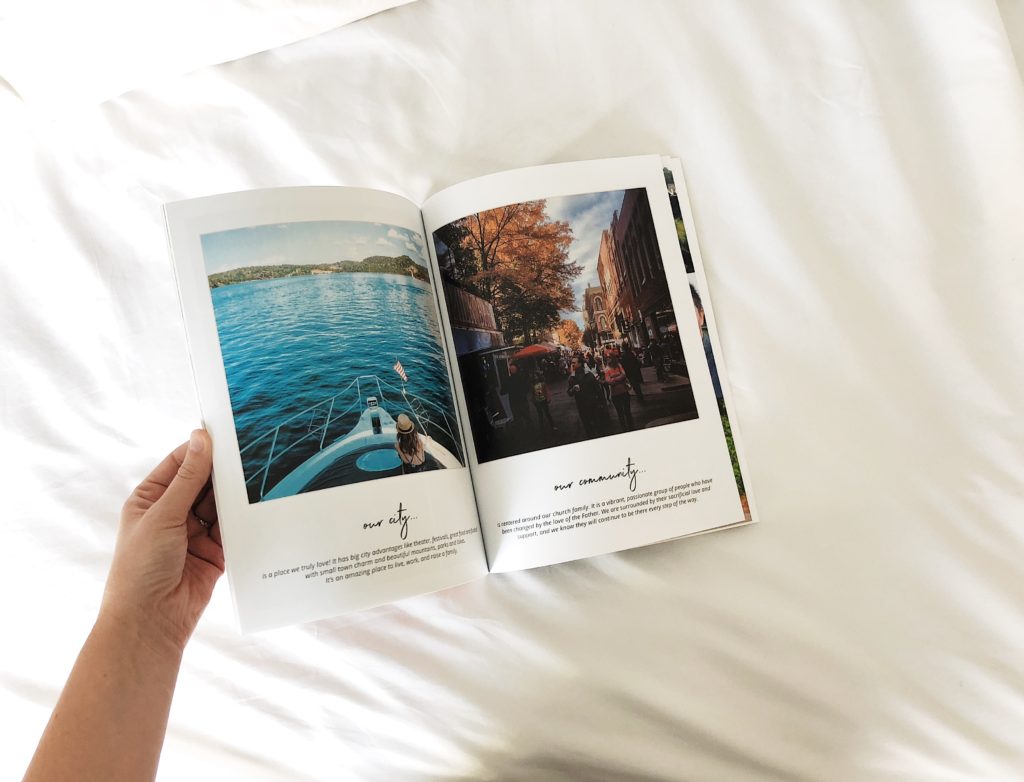 Why did you choose Kindred to make your profile book?
The design of our profile book was very important to us.  The way we saw it, our book was the only thing that a birth mom would have to understand who we were and we wanted it to speak clearly and represent us well.  We also are REALLY busy and didn't have time to make our book what we wanted it to be! When we came across Kindred we were thrilled because their design style lined up with what we had envisioned for our book and we didn't have to think twice about it.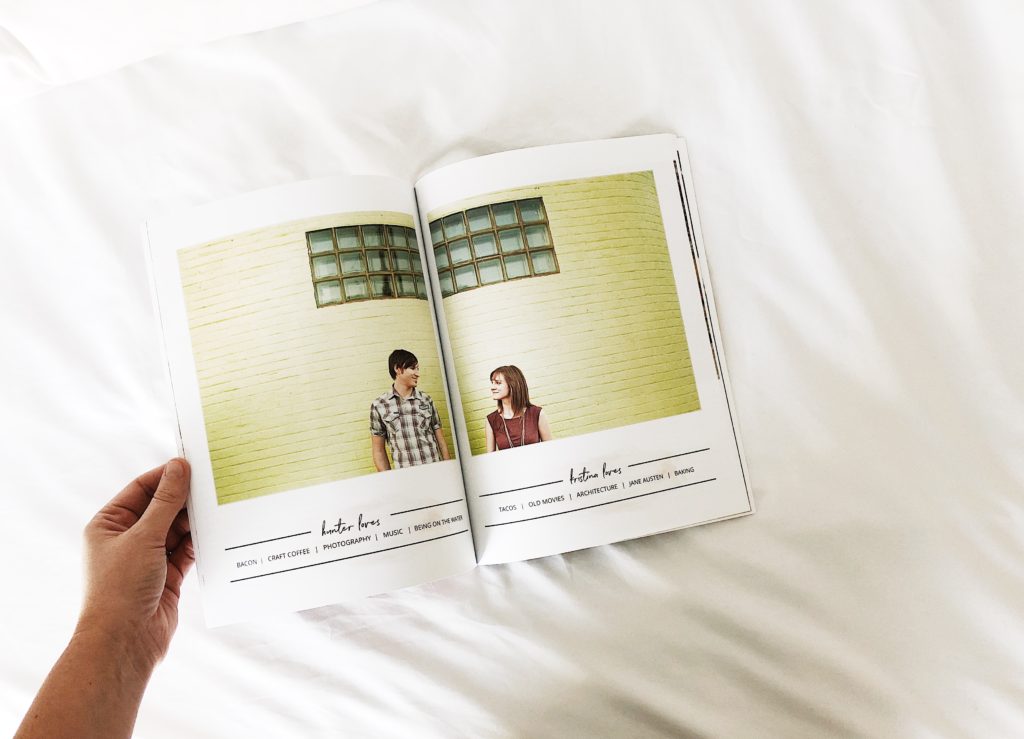 What is your favorite part of your profile book?
I love the page that highlights a few of our favorite things (pictured above!).  The picture that Hannah pick for it was one of my favorite photos we had taken for our five year anniversary, but I never framed it because I couldn't find a good place for it.  I was so happy when she suggested using it for that page, and the way she laid it out is so much fun!
What was the most overwhelming (or hard) part of your adoption process and how did you work through it?
The hardest part is the part we're in right now – our adoption is not finalized yet and we're working through some challenges in the process, so the future of our family is still hanging in the balance.  The honest truth is that no matter what point in the process I had been asked that question, I probably would have answered, "right now!"  Each step is uniquely challenging in its own way and requires a deeper level of trust as you move forward towards growing your family.  That's the beauty of it: the process is constantly requiring you to go deeper, and you have the opportunity at each step to be present and embrace it – and if you do you'll find more beauty waiting there than you could have imagined.
How does your profile book represent who you are? 
Somehow Hannah made it exactly what we wanted: clean and simple yet personal.  It really feels like US when you flip through the pages.  I was excited for birth moms to see it knowing that, when the one we had been waiting for found it, she would have a real introduction to our family.  Having that confidence in presenting our book was a game changer and calmed a lot of our anxieties!
We had so much advice thrown at us when we were working on our book…people have different opinions on what should be included, and it's hard to know what to do.  We felt a lot of pressure to include certain information, certain types of pictures, and to represent ourselves in a certain way.  One day we saw an adoptive family out at a restaurant and started chatting with them about their story.  They said that they were intentionally authentic with their book, regardless of what advice they received, because they ultimately wanted to be chosen because of who they were and not some version of themselves that seemed more presentable. That stuck with us and we agreed we wanted our book to truly feel like us, no matter what advice we received.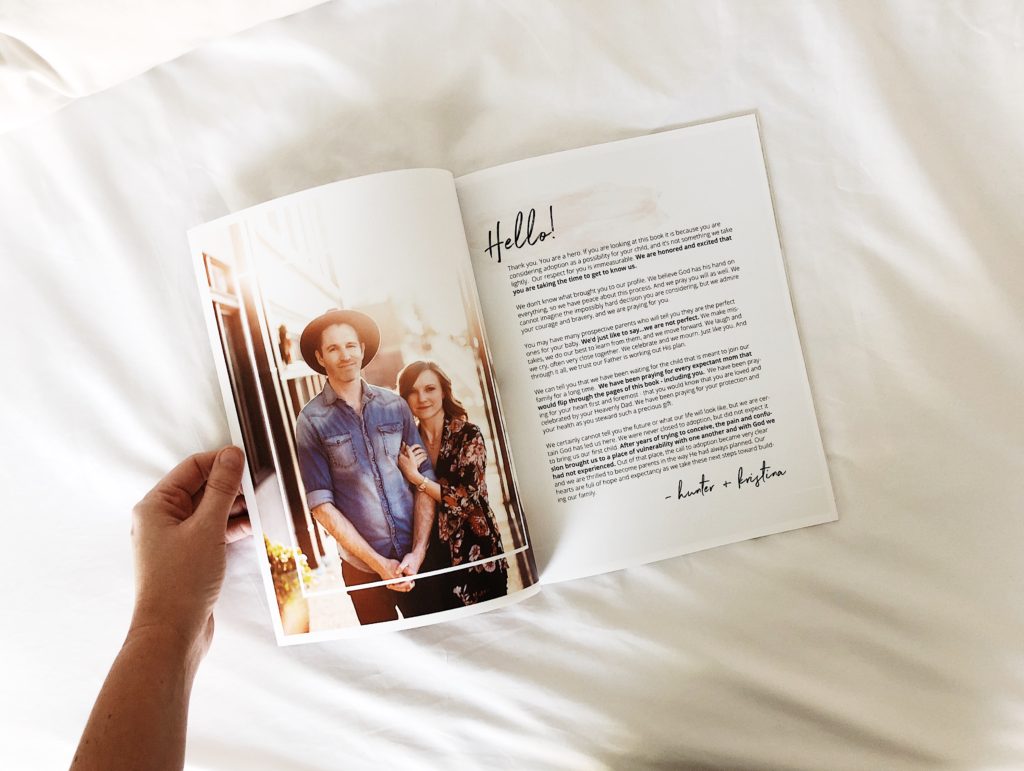 If you know – what stood out about your book to your child's birth mom?
Our match story is kind of crazy.  Our birth mom had a stack of something like 30 books to look through from our agency, and after going through every single one of them she only wanted to meet us.  She then handed the stack of books to her grandmother and her aunt, not telling them who she chose, and they both chose only our family as well!  It just goes to show that there is a child and a birth mom specifically intended for each adoptive family and the story God is weaving is much bigger than we can understand.  Ultimately, our birth mom said that it was the letter we wrote to her at the beginning of our book that set us apart.  It was personal and real about our struggle to grow a family, but we also shared how we had been praying for her which touched her deeply.  Aside from that, she has a lot of the same interests that we do and has an artistic eye so the photographs and design of our book really caught her attention.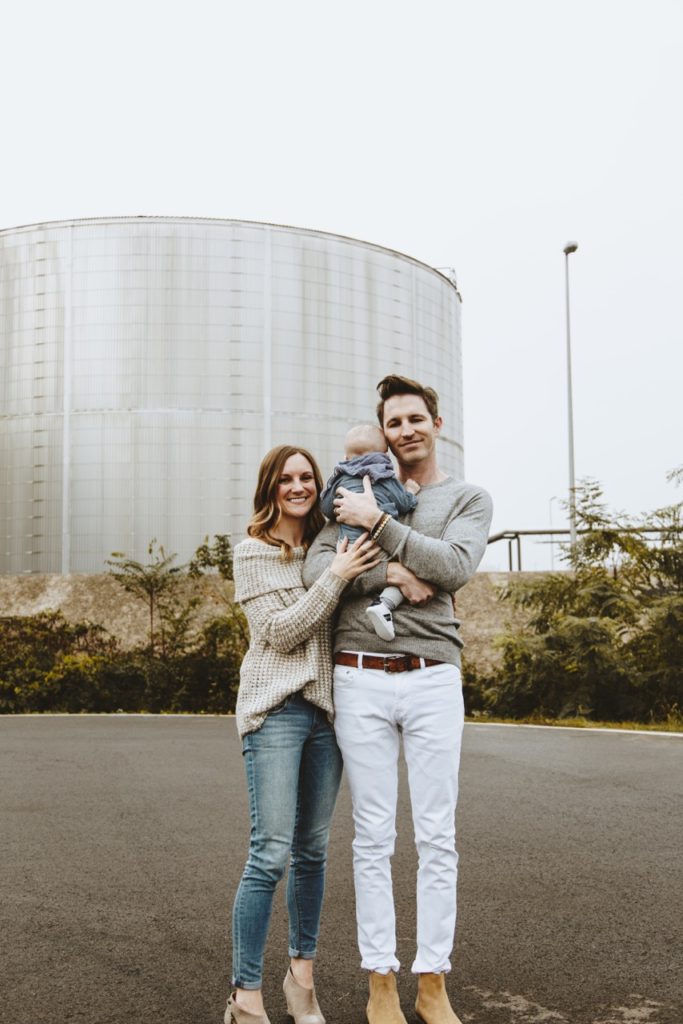 Now that your son is home – how has your life changed?
I think an easier question would be how my life hasn't changed!! I feel like nothing is the same since bringing him home, and anyone who has welcomed a child into their family can relate.  It's only been six months but I barely remember what life was like before him (and what in the world I did with all my free time).  The best thing that's changed is my perspective – of what's important in life, of what motherhood is, of myself.  Somehow, in bringing Benjamin home, the depths of pain of infertility aren't so deep anymore.  Trust me – the pain is still very real when pregnancy announcements are sprung on me or when conversation revolves around how a pregnant friend is feeling or how cute her bump is. Because, even though the deep desire to be a mother is being fulfilled, the desire to experience pregnancy is not.  But that's the thing: the desire to be a mother is deeper, and that's the joy of what I'm experiencing now.  So when I see a pregnant woman out in public, I no longer see her as a reminder of what I lack, but of what I've been given.  My husband and I were talking about it the other day, and he said something that stuck with me: don't let nine months dictate a lifetime.  Being a mother, no matter how we come to be one, is something that lasts a lifetime.  And I'm so grateful to be on the journey, stewarding the greatest gift I've been given.
---
If you are interested in Kindred + Co. profile services, learn more here!