I remember being in elementary school and learning about acrostic poems. I think everyone in my family got a poem that year, their name in bright marker down the side of the page and an adjective for each letter. A was always "awesome", N was "nice", and you could usually bank on their actual name for the first letter because that seemed the most obvious (and easiest). That year I set out to describe my mom acrostically for Mother's Day: M is for mom, O is for outstanding, and M is for marvelous. As we approach Mother's Day this year, I'm so glad we don't have to relegate only three adjectives to motherhood. Since becoming a mom, then struggling through infertility and then bringing our son home through adoption, I've seen it take on so many different shapes and colors and sizes. It's so much more than I could have ever hoped or imagined.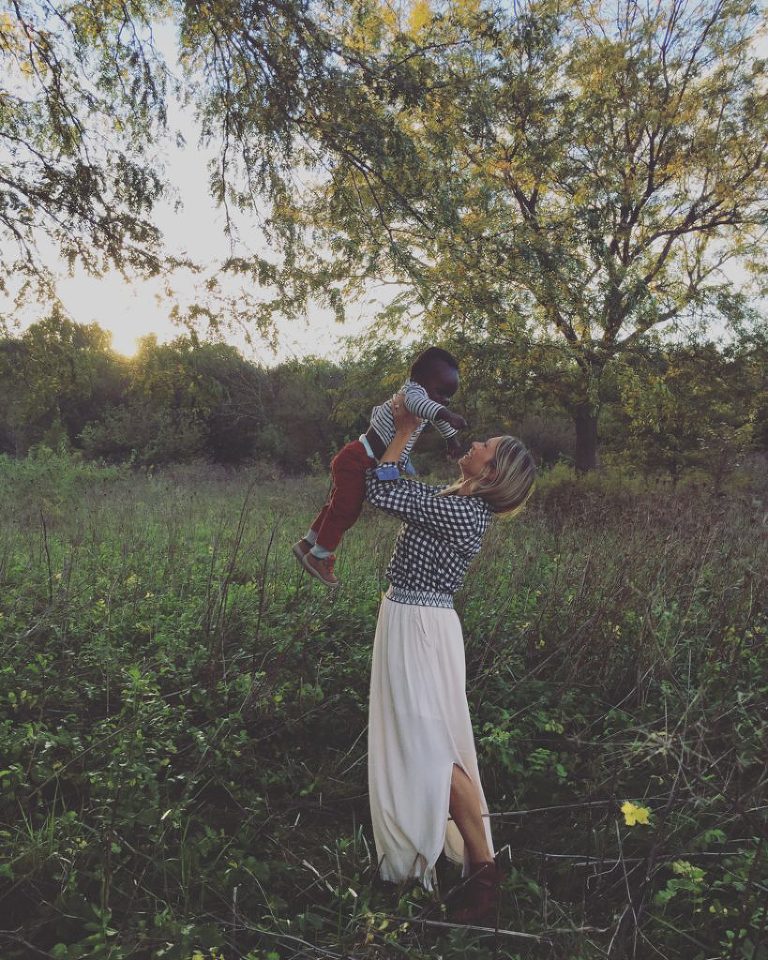 Motherhood is a positive pregnancy test, a swelling belly, a grainy black-and-white ultrasound picture taped to the refrigerator. It's a newborn's first cries and a drowsy nursing babe.
Motherhood is a stack of paperwork, signed documents, and background checks. It's having a social worker in your home, getting a physical, and selling t-shirts to fundraise. It's waiting. It's hoping, and praying.
Motherhood is waiting expectantly for a due date and watching it pass with empty arms. It's folding up tiny onesies, washed muslin blankets and tucking them away. It's the waves of loss that wash over you and threaten to hold you under, and it's the hope that rises and pushes you forward.
Motherhood is meeting your son when he's three days old. It's the smell of his newborn skin and the softness of his dark silken hair. It's your heart whispering "there you are, I've been waiting for you".
Motherhood is the first glimpse of your daughter's face, thousands of miles away. It's the tear-soaked photo you tuck into the visor of your car, press between the pages of your Bible, and carry with you. It's crossing an ocean and an unspoken number of obstacles to finally hold her in your arms.
Motherhood is the hope that this will be the month. It's another twenty dollars spent on a test, and it's the hope that lingers after the bitter disappointment has worn off.
Motherhood is a middle of the night phone call. It's scrambling to gather up clothes, and readying bottles. It's standing knee deep in the messy and hard. It's saying yes to getting attached, it's being prepared to let go.
Motherhood is sitting through that baby shower and celebrating with your mama friends. It's bathroom floor, behind the closed door sobbing. It's waiting for your turn.
Motherhood is loving your baby more than yourself. It's choosing his life, feeling his first kicks and hiccups. It's handing him to his forever mama, it's saying goodbye.
Motherhood is love, and courage, and kindness. It's hope, it's loss, it's joy. It's longing, it's waiting, it's celebrating. Motherhood is perseverance. It's fueled by lots of coffee and lots of love and lots of grace. I see it in the eyes of a new mama, in the waiting pleas and prayers of a hopeful adoptive mama, and in the beautiful face of my son's birth mom.
Wishing you a happy Mother's Day, whether it's your first of many, or you are several generations in, or if it's a title your heart longs for and you are waiting in the trenches. May you be spurred on and carried along by those who do it so well and lovingly around you. We, together, are motherhood. We are better together.