Occasionally, my family loads up in the minivan, and we head to our local bike trails for a family ride.  It takes immense effort to pack all our gear, strap the bikes to the car, take two bathroom breaks before leaving (since it always takes way too long to actually leave), and then get in the car.
When we arrive at the popular and busy trails, we pile out of the car.  Chaos ensues as the children, bundles of energy and anticipation, began to embark on personal journeys to Crazy Town: cartwheels in the parking lot, chanting for snacks (which I forgot to pack), and arguments about who has the coolest bike.   One by one, we unstrap the bikes and get each child ready by securely strapping on their helmets.   Then we hop on our bikes and begin our adventure.
We pass family after family and group after group, many like us with young children in tow.   And what I've noticed is oftentimes the children dutifully have helmets on, while the adults in the group are bare-headed.  
My husband and I have talked about this many times:  how often the adults, the leaders and example-setters, force their children to take the proper biking safety precautions, but the adults themselves do not.
Helmets aren't always comfortable.  The strap is annoying resting on the jaw.   In heat, the helmets create an added layer instigating more sweat.  But they are a necessity, insurance for the just-in-case moments.
Five months ago, I lost myself.   We had been matched with an expectant couple looking to place their baby for adoption.   Now before you question my "rookie mistake," I will tell you that this was our fourth adoption.  That's right, not our first, or even our second.  Our fourth.
We were established in many ways.  Educated on adoption.   Grounded in ethics.   Understanding and having experienced that adoption requires patience, determination, grace, prayer, and faith.   If you would have told me that my fourth adoption journey would be our most difficult, I would have laughed at you and said adoption is "been there, done that" for us.   Even though I knew every adoption would be different, I had no idea what was to come.
Those who know me and my extensive writing on adoption are familiar with the fact that I am very private when it comes to my children's privacy and their adoption stories.   I do this to be respectful of their birth families and of my children's ever evolving feelings about adoption.
But what I can tell you is that I became the very person I scoffed at:  the person who let self-care go by the wayside because I was "too busy" being a mom to my three kids and a waiting-to-adopt mom to an unborn little girl.
I ate less healthy.  Exercise became more of an occasional whim and far less of a morning habit.   I grew increasingly anxious, resorting to an appointment with my doctor where I plopped onto the exam table and blurted out, "I AM HAVING PANIC ATTACKS.  I NEED MEDS.  STAT."   I neglected friendships.  I was preoccupied with the long and agonizing match, the what ifs, the doubts.   I ceased working on my next book, which is not at all who I am since writing about adoption is my passion.  I just wasn't me.
The usual me is passionate, determined, loud.   The usual me is driven, positive, and organized.   The usual me is in control, goal-oriented, and energetic.
What I realize now, a month outside of the helmet-less time season of my life, is that it's very easy for any of us to slip into the person we don't want to be, to give up on the things we need to pursue and the people we need to nurture, starting with ourselves.  It's not ok.  It's not healthy.  It's not right.  It's not God's best for us.
If you are waiting to adopt, I encourage you to make a list of three to five ways you can take care of yourself.  Hang that piece of paper somewhere visible, and then follow through.  Do the things that bring you joy, that nurture your spirit, that encourage you.
Put on the helmet.  And leave it on.  
As I write this, my four children are around me in the living room: napping, reading, and coloring.  The baby girl I was so worried about a few months ago is now my daughter.  And I'm slowly crawling my way back to myself.   That started with the recognition that my baby girl, my other kids, and my husband need me first and foremost take care of myself.   In doing so, I can be the best wife and mom possible, the mom that my new baby girl needs me to be.
---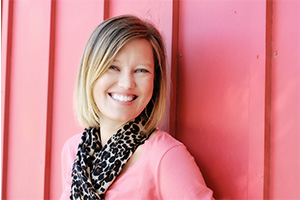 Rachel Garlinghouse is a mom of three by domestic, transracial, open adoption.  She's the author of five books and hundreds of articles.  Her experience and education have been featured on NPR, CBS, CNN, MSNBC, Huffington Post, Scary Mommy, Adoptive Families, Babble, abcnews.com, Yahoo! News, Medium, Fatherly, The Good Men Project, and many more.   Rachel rocks a top knot and a minivan.   Follow her family's adventures on her Facebook page, Twitter, and Instagram.