I've shared our adoption story to our beautiful third son pretty openly. There was a lot of brokenness and a lot of beauty that paved the road to the hospital in a sunny Florida town where we first met him. There's one vulnerable piece I have only shared with a few. It's hard to share because I always think of people within the adoption community as having so much grit, and strength. And here is where I vulnerably admit that I didn't always. I think it's important to share because I lost hope, and I'm on the other side with a beautiful son. It's important to share because I wanted to give up, and I wonder if that's something more of us might have in common too.

In the weeks leading up to the (unexpected) arrival of our son, Frankie, not a lot was going right. Our new spring roof had a sudden summer leak, our basement was flooded and our attic collecting water. A storm brought a giant tree limb down across our patio, shattering a string of patio bulb lights and narrowly missing our older boys. We had no news to share when kind friends asked about our adoption, and no updates to give our family who had generously poured into helping us raise funds to bring our child home. We were bleeding financially and rapidly losing hope. We had made it through several years of unexpected infertility, two failed adoption placements, and now here we were. Still in the wait.

Potential situations trickled in, but so many requested families with no biological children. So many were "no's".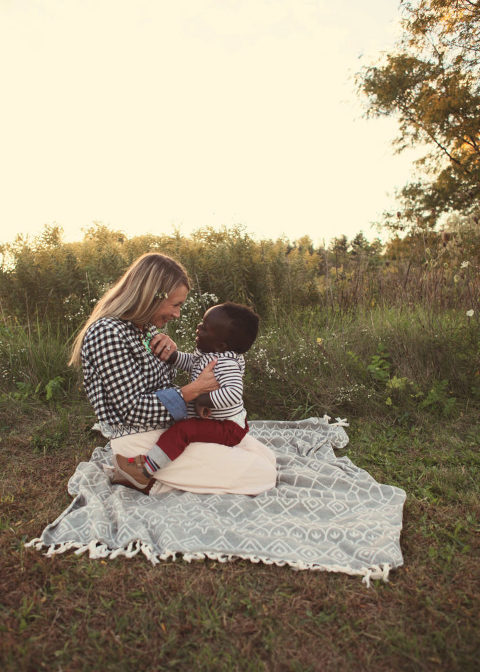 It was summer; we filled the days with sun-soaked hours at our neighborhood pool, evening games of baseball, popsicles and catching lightning bugs in mason jars. But while the days grew longer, my heart grew weary and restless with the wait. Maybe we weren't meant to grow our family. Maybe we would support adoption in other ways. Maybe giving up would hurt less than the waiting, and hearing no, and hoping.
One night after our oldest son, Henry's baseball game, I stood in the parking lot with a dear friend. She asked me how we were doing, if there was news. Truth and tears that had been buried, hidden, bubbled up to the surface, "We have no news. Nothing. Honestly, I just can't see it happening." There's so much optimism required in the process. I felt like I needed to be incredibly positive all the time, and couldn't show my worry or doubt. It loosed something in me to tell the truth to this trusted friend. She listened and gently nudged me to hold on and to take the next step.
And then, a few weeks later, a phone call. Asking us to consider a situation. We had no doubts. In fact, when our adoption consultant couldn't reach me and called Patrick he answered for me; for us. Yes, consider us. Holding on to that strand of hope. That phone call was the first time we heard about our son. 24 hours later he was swaddled in our arms.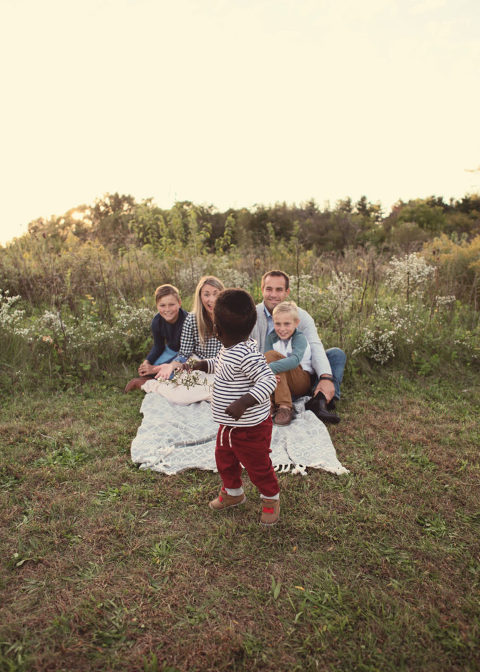 We didn't know if we'd ever hold him, and walked through times that we strongly doubted we would.  What I now know is that we couldn't speed up becoming his parents simply by trusting enough, or thwarted plans to call him son by losing hope in the process.
I believe in sovereignty and grace. Lots and lots of grace. I believe in truth telling and finding community with people (even one other person) who you can be totally honest with. People who you trust with your fears and doubts. People who listen, and then point you back to truth, and hope.

Sometimes we feel like we are called to something great and we have to go from where we are to something great. But the truth is you just have to go from where you are to the next step. Maybe the next step is filling out an agency application, and maybe it's buying a cute crib sheet. Maybe it's waiting for a court date, or for results from a doctor's appointment. Maybe it's acknowledging your doubt and fear, and then walking forward anyway. Every time you feel doubt or fear rise up, let hope overtake that fear, and just take the one next step. You're not going it alone; link arms with us. We'll walk forward together.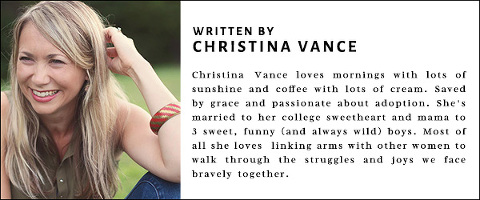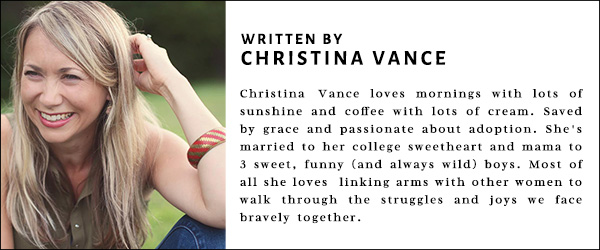 SaveSave
SaveSave
SaveSave