I love surprises.
When I was little, I grew up with a brother, Kevin, who was 10 years older than me and was constantly finding new ways to entertain me, surprise me, and make my life feel magical. For example, Easter baskets were never just handed over, but after extensive scavenger hunts, I usually found the basket in a strange place like the dryer or hanging from a tree, outside, above my head, and out of reach. One of the BEST surprises that Kevin pulled off was waking me up one morning to go to the airport with him to "pick up one of Dad's friends". We got to the airport, walked past all the shops and restaurants, and all the way to the gate to greet this guest (this was long
before 9/11
). When the friend never got off the plane, my brother told me the guest must still be on the plane and we have to go on and look for him. So we got on the empty plane, and still, there was no friend to be found. At this point, Kevin told me just to sit down in one of the seats because he must be in the bathroom (I love surprises as much as I am gullible, so it works out well!). After sitting for a while and being totally unaware that the plane is now filling with people, I started looking out the window see the plane was moving backward. I started screaming and crying and telling Kevin we have to get off this plane – while the flight attendant sternly asked me to sit back down. Finally, Kevin had to spill the beans and tell me that we were actually on the plane to go to Disneyland, and that there is no Dad's friend. My tears dried up quickly and yet again, Kevin had pulled off a great surprise.
Today – March 29th – marks one year since the biggest surprise of my life started to unfold.
 One year ago, this day started as an average day. I do remember feeling a little anxious and a little defeated. Josh's big medical school test was only a few weeks away, and following it he would have two weeks off school – with a rigid medical school schedule this was his only scheduled break of the year. We had been hoping for so long that something would happen with our adoption before those two weeks so that we would have time together to adjust to our new normal. But that date was quickly approaching and there were no new situations, and we hadn't even presented our profile yet to anyone (although had many opportunities that didn't feel "right" yet). Needless to say, our timeline that we dreamt up wasn't looking promising.
On that day I woke up to a text from my brother out of the blue saying,
"I'm sure that its easy to get anxious and impatient – but there is a mom out there that desperately needs you, and you are ready for her when she seeks help. I love you. And couldn't be more proud of you."
I thanked him for this timely text of encouragement not knowing in a matter of a few hours a VERY special mom would start to make her way into our lives.
I was cruising my Facebook feed during that 3 o'clock in the afternoon slump, when I saw a post that caught my eye. An agency was having a hard time finding a match for twin girls – this expectant mom had looked through many books and hadn't found what she was looking for and was due in a few short weeks. Josh had been joking (quite seriously) that he wanted twins throughout our whole adoption. I thought he was nuts and knew the chances of twins were slim to none, but I couldn't help but think of him when I saw this post on Facebook across my feed. So, I tagged him in the comments with a simple winky face emoji. No words. Just an emojii. It was kinda mean – because I knew these girls weren't going to be ours. After all, the post said you needed to live in Utah, so in a way, I was taunting him and after I left my comment, I kept scrolling.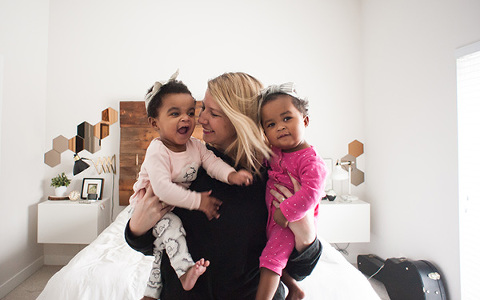 A couple hours later Josh flew in the door, ready to start negotiating with me why we should email the agency to make SURE that you HAVE to live in Utah. He obviously was thinking about how to convince me on his hour long commute home.
After less convincing that he thought I would need, I sent an email to the agency – expecting to hear that we can't live out of state for this situation. But the answer was different and it changed everything.
That night, Josh and I laid in bed, both processing differently, both not sleeping, and not talking either. I remember staying up till about three in the morning crying and wondering if I am strong enough for twins. I even googled "how to take care of twins". That night I got a text from a friend with TWO sets of twins. She told me that sometimes we have to flip the coin and let God choose how it lands.
Even though fears all but overtook me that night – one question would lead to the next ten questions….How do we raise 30K in just a few weeks? How do we take care of twins while Josh is in medical school? How do we afford twins? Where do we put the twins in our small Chicago apartment? How do you care for two babies at once? How long will they need to be in the NICU? And especially, can we do this?
But somehow Josh and I both woke up with a sense of peace. We knew our options were:
to not present our profile book and always wonder "what if?"
to present and get a no, and know that it wasn't our story
to present, and at that point, if we got a yes, it was because so many doors had to open and that in itself would be a big enough confirmation to us.
So, that next morning we decided to say "yes". And today, I am writing this blogpost with my two daughters crawling across the floor who have given me more joy than I could ever have imagined. I would be so angry at one-year-ago-Hannah if she had let fear win. How different life would look today had I not tossed the coin.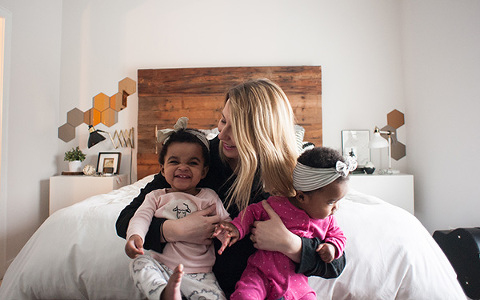 Ezra and Olive – You are my greatest surprise. In every sense of the word.  And I couldn't be more grateful and honored that your birth mom said "yes" back.
"While we're distracted with fear, the enemy pickpockets our purpose, cripples our courage, dismantles our dreams and blinds us to the beauty of the Lord's great plans." – Lisa TerKeurst